B-17 is a residential sector located in Islamabad, the capital city of Pakistan. The area is known for its well-planned layout and modern amenities, making it a popular choice for those looking to purchase an apartment. There are various options available in B-17, including newly built apartments and older units that have been recently renovated. Prices for apartments in B-17 can vary depending on factors such as size, location, and condition of the unit. Overall B-17 is a good option for those looking to buy an apartment in Islamabad.
B-17 is located in the city of Islamabad, which is home to several reputable universities like the National University of Sciences and Technology (NUST), Quaid-i-Azam University (QAU), International Islamic University (IIU), and COMSATS University. Students and peoples from all across Pakistan want to move into this city to ensure that their families and belongings would be in the safest city in Pakistan.
In addition, B-17 also offers a variety of other benefits for residents.
B-17 is well connected to the city's public transportation system, making it easy to move around. This area has also many amenities such as supermarkets, parks, and gyms, and B-17, Islamabad is considered a safe area with suitable security arrangements
Overall, B-17 offers a good balance of urban and suburban living, making it an ideal location for students, professionals, and families.
Buying an apartment in B-17, Islamabad
A solid economy is one of the reasons why Islamabad is considered one of the top places for purchasing property in the country. The city has a range of housing options available, from bungalows and houses in upscale neighborhoods to more affordable apartments.
For those on a tight budget, apartments in installments in areas such as B-17 can be a good option. Valencia Heights located on B-17, Islamabad provides you with a luxury apartment of different sizes on the 4-year easy installment plan.
However, as with any property purchase, it's important to do your homework before making a decision. It's recommended to research the area, the condition of the property, and the price trends in the area. It's also important to consider the long-term prospects of the area, such as the potential for appreciation in property value. Consulting with a real estate agent or property expert can also be helpful in making an informed decision.
Types of Apartments in B-17 Islamabad
The quick construction of apartment buildings in Karachi, Lahore, and Islamabad and the quick occupancy of such complexes make it quite obvious that the country is developing vertically. In B-17, Islamabad, you can choose from a wide range of buildings and apartments, including studio apartments and combined apartments building like Valencia Heights. Based on their design and features, these apartments developments are divided into the following categories:
Studio Apartments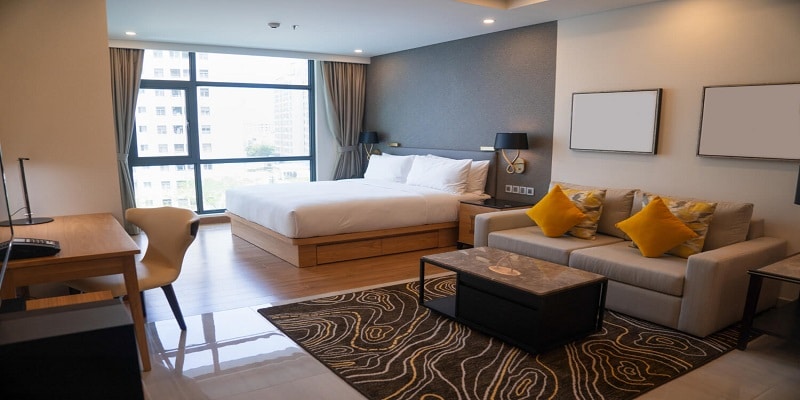 A studio apartment is a type of apartment that typically consists of one large room that serves as the living room, bedroom, and kitchen, with a separate bathroom. Studio apartments are usually smaller than traditional one-bedroom apartments and are designed to be efficient and compact.
The typical size of studio apartments in B-17, Islamabad is 250- 350 sqft. They are a popular choice for singles, students, and young professionals who want to live in an urban area but want to keep their living expenses low.
As discussed earlier Valencia Heights has a studio apartment of 340 sqft which is available on 4-year easy installment plan.
Single Bed Apartments
Single Bed Apartments do not have an open floor design plan such as studio apartments. Single-bed apartments are usually bigger than studio apartments the size of these apartments may vary between 550-700 sqft.
They typically consist of one bedroom, a living room, a kitchen, and a bathroom, they are often built such that the most available area is used and some of them could also have a balcony.
Single-bed Apartments in B-17, Islamabad best for single people, couples, or twin-sharing.
Double Bed Apartments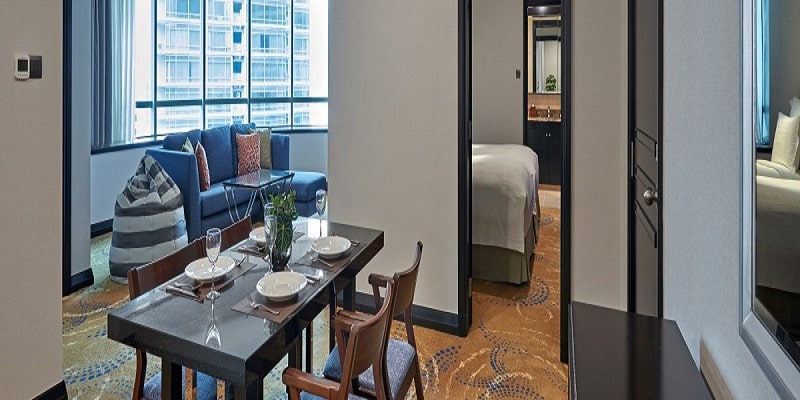 Double-bed apartments are the most prevalent and well-liked type of apartments in B-17, Islamabad. People preferred to live in double-bed apartments instead of studio and single-bedroom apartments. A double-bed apartment typically refers to a residential unit that has two bedrooms.
It may also include other rooms such as a living room, kitchen, and bathroom. The size and layout of the apartment can vary depending on the location and building it is located in. It is typically larger than a studio or one-bedroom apartment and can accommodate more occupants or guests. The size of double-bed apartments varies between 1000-1150 sqft.
Triple Bed Apartments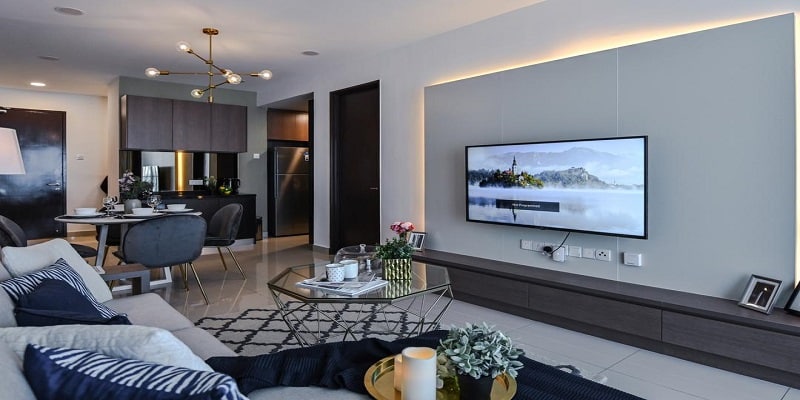 In B-17, Islamabad triple-bed apartments are considered a height of luxury.
Triple Bed apartments are bigger than double-bed apartments they have three distinct bedrooms, a kitchen area, a living room, and three bathrooms which are adjacent to the bedrooms.
And the kitchens are far more modern and luxurious than two or one-bedroom apartments. They can accommodate more occupants and guests.
These apartments typically range in size from 1100-1400 sqft.
If you're looking for a triple-bed apartment in B-17, Islamabad. Check out the Valencia Heights apartments.
Duplex Penthouses
Duplex Penthouses in B-17, Islamabad are also categorized as having three or four bedrooms. But a duplex penthouse is a type of residential unit that is typically located on the top floor of a building. It is designed as two levels, with the living spaces on the upper level and bedrooms on the lower level.
And considered a luxury apartment and often has large windows with views, high ceilings, and high-end finishes. It may also have additional features such as a terrace, balcony, and swimming pool. These types of apartments are considered to be more exclusive and luxurious than traditional apartments due to the added space and unique layout.
In Islamabad, Duplex penthouses are more expensive than other luxury apartments since they have many levels and take up to a full terrace. They are more secure than other types of apartments due to the separate floor and big allotment
Penthouses are a good option for those people who wish to feel more at home in their apartments
Sale price trends for apartments in Islamabad
It is simpler to buy an apartment which typically costs between PKR 36 lakh to PKR 6 crore.
Valencia Heights also provides apartments and duplex penthouses on the 4-year easy installment plan. Only a 25% down payment and 48 monthly installments over the course of four years. You must pay the final 10% at the time of possession in order to take possession of the apartment or penthouse.
Visit the Valencia Developers website to go through the apartments for sale in B-17 Islamabad and let us help you to choose the home of your dreams.
Facilities & security in B-17 Islamabad
B-17, Islamabad, Pakistan, is known for its well-planned infrastructure and modern facilities. The sector offers a variety of facilities to its residents, including parks and green spaces, shopping centers, schools, and educational institutions, healthcare facilities and community centers, and recreational facilities.
The sector is also known for its gated communities which provide an added layer of security to the residents. CCTV cameras are installed in common areas such as parks and shopping centers to monitor activity and deter criminal activity.
Security patrols are conducted by security personnel to ensure the safety of residents and deter criminal activity. Emergency response services such as fire and medical services are also readily available in case of emergency. The sector is also known for its well-maintained roads and infrastructure, making it an ideal place for families to settle down.
Apartments for sale in B-17 Islamabad on Installments:
Valencia Heights provides you the single, double, triple, and studio apartments of different sizes in B-17, Islamabad. Booking starts from a 25% downpayment and the remaining amount can be paid in 4 years easy installments.
Soo hurry up! and book your apartments today.
FAQs
Where can I invest in Islamabad Rawalpindi?
In Islamabad and Rawalpindi, popular investment options include real estate, such as residential apartments, commercial spaces, and plots of land.
Why invest in apartments in Islamabad?
Investing in apartments in Islamabad can provide potential rental income and appreciation of property value as the city continues to develop and grow.
Do apartments in Islamabad come with installments?
Some apartments project in B-17, Islamabad like Valencia Heights do come with the option of installment plans, allowing buyers to purchase property in a more manageable and flexible way.
Is Islamabad safe living in apartments?
Islamabad is generally considered a safe city to live in and there are many gated communities and secure apartments available to live in.
What is the price range to buy apartments in Islamabad?
The price range to buy an apartment in Islamabad may vary between PKR 34 lakh to PKR 6 crore.